YouTube
Angels of Creation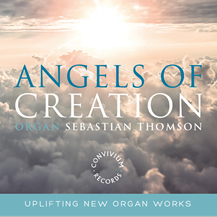 The Fourteen Stations of the Cross is available on Angels of Creation (Sebastian Thomson), which can be ordered from here.
There is nothing pleasant about the 14 Stations of the Cross; indeed one must recall suffering, torture and grief throughout.

My overall aim has been to depict each station as graphically and colourfully as possible, with a constant feeling of unsettlement and not quite knowing what will come next. In this sense, even though the opening theme does appear at various points throughout the work, it has been my intention not to develop any thematic material fully. Rather, one should leave the performance in a state of shock or feeling confused – just as those close to Jesus must have not quite known what was happening or even why. In some cases, a whirlwind of different moods and senses are exploited in a very short space of time; in others, the listener is left wondering what just happened. It wasn't even in the space of a week that the crowd were cheering Jesus and then shouting "Crucify". I hope that some of this feeling is depicted throughout the work.

This work was inspired by the various colours the organ can produce, a Stations of the Cross that I improvised in Holy Week 2012, a walk through the Stations of the Cross at Pantasaph Monastery and some fragments of plainsong.